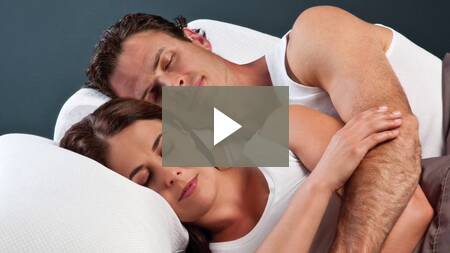 Sleep positioning system your partner will love!
You'll wake up refreshed and energised from a sleep that actually restores your body with optimal oxygen, minimised stress and genuine comfort.
About SnoreBeGone

®

Sleep Positioning System
SnoreBeGone® is a Sleep Positioning System that is used to reduce the incidence of snoring. Over 30% of Australians snore.[1] Snoring often causes significant sleep deprivation affecting overall health and well-being. It can impact lives causing daytime drowsiness and reduced concentration. Bed partners are also significantly affected.[2]
How SnoreBeGone

®

Works
SnoreBeGone® Sleep Positioning System positions the body to overcome contributing factors that can cause or increase the likeliness of snoring including:
- Sleeping on one's back
- Relaxed throat muscles due to ageing
SnoreBeGone® unique design addresses the problems associated with snoring by:
• Supporting the entire body not just shoulders and neck
• Elevating the body; the elevation needed to prevent gravitational collapse of airways
• Ergonomic design to maintain correct posture – ensuring spine and shoulders remain at right angles
• Design encourages side sleeping and prevents sleeping on back (leaving air passages open to breathe easier)
• The weight of the body holds the Sleep Positioning System in place, while allowing a left or right lateral position for sleep
• Recess channel provides space for shoulder and arm to rest stress-free
• Detachable and adjustable headrest ensures optimal comfort
• Detachable armrests ensure arms can lay flat and relaxed (for added comfort when extending the arm)
3 Year Guarantee
SnoreBeGone® Sleep Positioning System offers 3 year Product Guarantee provided Stainproofing Protector is fitted at all times.
For further information, please download and read our product brochure here.